Tools and Accessories You Must Have in Your Car!
Key points

Multifunctional car safety tools
First-aid kit
Fire Extinguisher
Bottle water
Dashboard camera
Powerbank
Umbrella
Spare Tire, Car Jacks and Jumper Cables
When it comes to your car, you will prioritize your monthly or regular car maintenance just to keep your car in safe condition and have better performance. But, you will need to understand that even if your car is in good condition, if you do not have an emergency kit when you are in need, there is no point. Usually, when our car breaks down on the road side, we will panic and try to find the emergency kit. Say no more to PANICKING!
As a result, it is critical that you have all of these emergency kits in your car right now, as these kits will assist you in the unexpected event. Do remember, accidents or road emergencies can happen at any time to any of us, either today, tomorrow, or in the future.
Multifunctional car safety tools
These items are the most important items that you must have in your car right now. Did you know that if you were trapped in your car and wearing a seat belt, this seat belt cutter tool can help you quickly and easily slash through a seat belt.
The second tool that is going to help you is the window breaker. The window breaker will not help you cut the seat belt, but this tool will help you break the windows during an emergency.
The cost of both of these tools is not that pricey and it's easy for you to get them at the hardware store or online platform. Don't worry, if you're not sure how it looks, you can look at the images below.
Source: Amazon.Com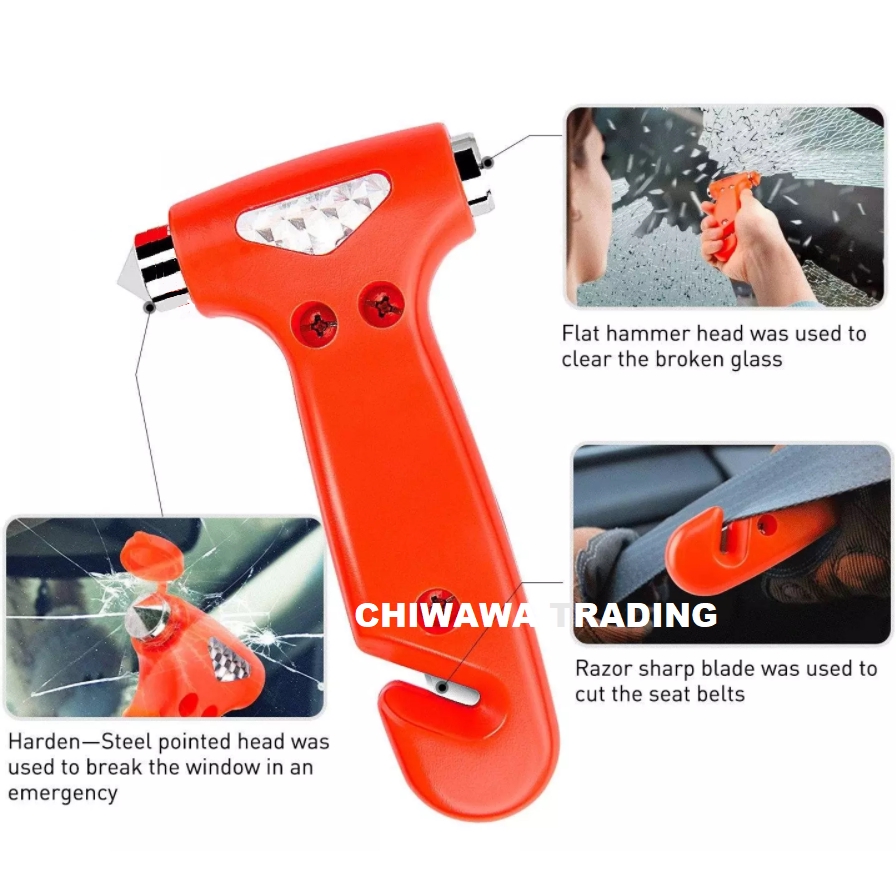 Source: Chiwawa Trading
First-aid kit
A first-aid kit is also important because you wouldn't know when you and your passenger are going to be injured. Let's say if you have a small road accident or anything, you can use the first-aid kit that has a complete set of items in it that can help you when you need it. Usually, in this first-aid kit, there are essential supplies that can be helpful:
W.O.W bandages
Surgical tape
Antiseptic cream
Cotton and Swaps
Sterile Eye pads
Saline Solution
Gloves
Plaster
Ointment
Medicine such as paracetamol and painkillers
This first-aid kit is easy to find. You can find it at the nearest pharmacy or online platform, whichever is convenient for you. But, make sure to get one with appropriate size that is easy for you to put into your car.
Do take note: Please remember to regularly check your first-aid kit because every item has a shelf life and you need to replace them after using part of them.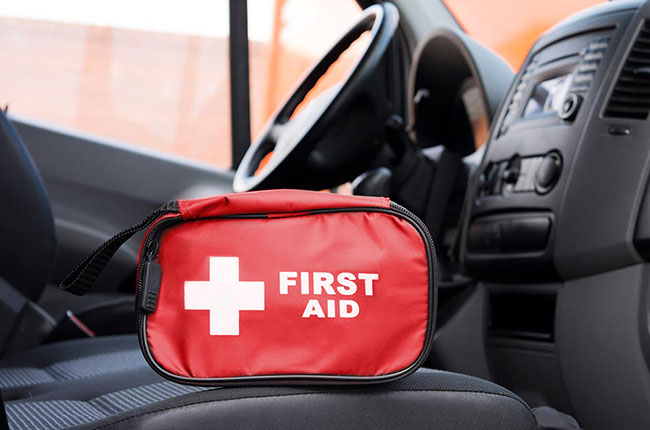 Source: Auto Deal
Fire Extinguisher
You must be weird and thinking about how you are going to put the fire extinguisher in your car, right? Did you know that fire extinguishers are crucial and can be your lifesaver if your car is in an accident? It can quickly put out the fire and save your car, other vehicles, and passengers from excessive damage and burns.
The most suitable one for all cars is the 1kg Dry Powder, and make sure to get the fire extinguisher that is approved by SIRIM and Puspakom. It is also advisable and recommended to place the fire extinguisher under the passenger seat as it is easy for the driver to reach in the middle of an emergency. If you don't know which one is the best, click here for more.
Source: Fire Fighter
Bottle water
Did you know that a bottle of water might be useful in times of need? You can use water to fill up a virtually empty radiator, heal wounds, fill up your gas tank, or even just do regular cleaning. You can use the empty bottle you have to fill it up, for instance, if your car is stranded on the roadside and you need to find a gas station to fill it up with fuel.
Source: JuzWater
Dashboard camera
Dashboard cameras are really important because they can be essential evidence if you are involved in a car accident or witness one. The main dashcam function is to record every detail that takes place both on the road and inside your car. Even though a dashboard camera is not compulsory, having one installed in your car is the right thing to do because if anything goes wrong, you know you have someone to be your lifesaver.
The price for a dashboard camera is not that pricey, so make sure to find one that has the video quality, field of view (FOV), low light performance, lithium battery vs. capacitor, impact sensing, and other good features.
Source: Cars.usnews.com
Powerbank
If you are stuck on the side of the road or have a long drive, a powerbank may save your life. Because you won't know when your phone runs out of energy, powerbank help keep your devices powered up when they do. Therefore, having a powerbank as a backup portable battery for your smartphone or tablet is crucial. Can you imagine being able to use this powerbank to recharge if you are stuck on the side of the road when you only have a few percent of the battery to use.
Source: Pcmag
Umbrella
An umbrella can be considered an important emergency kit that must be in our car. With the umbrella, you can use the umbrella to cover yourself when it rains or protect you from the scorching sun. For example, if your car breaks down during the day, you can also use the umbrella to protect you from the sunlight while you are waiting for help to come. Never underestimate the function of an UMBRELLA!
Source: Says.com
Spare Tire, Car Jacks and Jumper Cables
The last part is crucial for every car to have a spare tire, jumper cable, jack, and wheel level. Spare tyres as well as a jack and wheel level are important if your car has flat tires. But make sure to check your spare tyres regularly and monitor the air pressure and tread on them. Do take note that spare tyres can also malfunction, so it is important to check on them.
As for jumper cables, they can help you if your car battery suddenly runs out while you are driving. If you have a jumper cable, you can use it to jump-start it with the help of some other vehicles to help you get back on the road. This is why jumper cables are really important for every vehicle.
Source: Subaru XV Forum
Verdict
Now you already know what tools and accessories you need to keep in your vehicle. Each of these pieces of tools and accessories is not too expensive, and all of them are considered important because they can help you in the event of an unforeseen situation. Given that unexpected situations are challenging for all of us to forecast, it is preferable for you to be ready going forward. So, if you don't have this equipment yet, go to a store near you right away and get one!